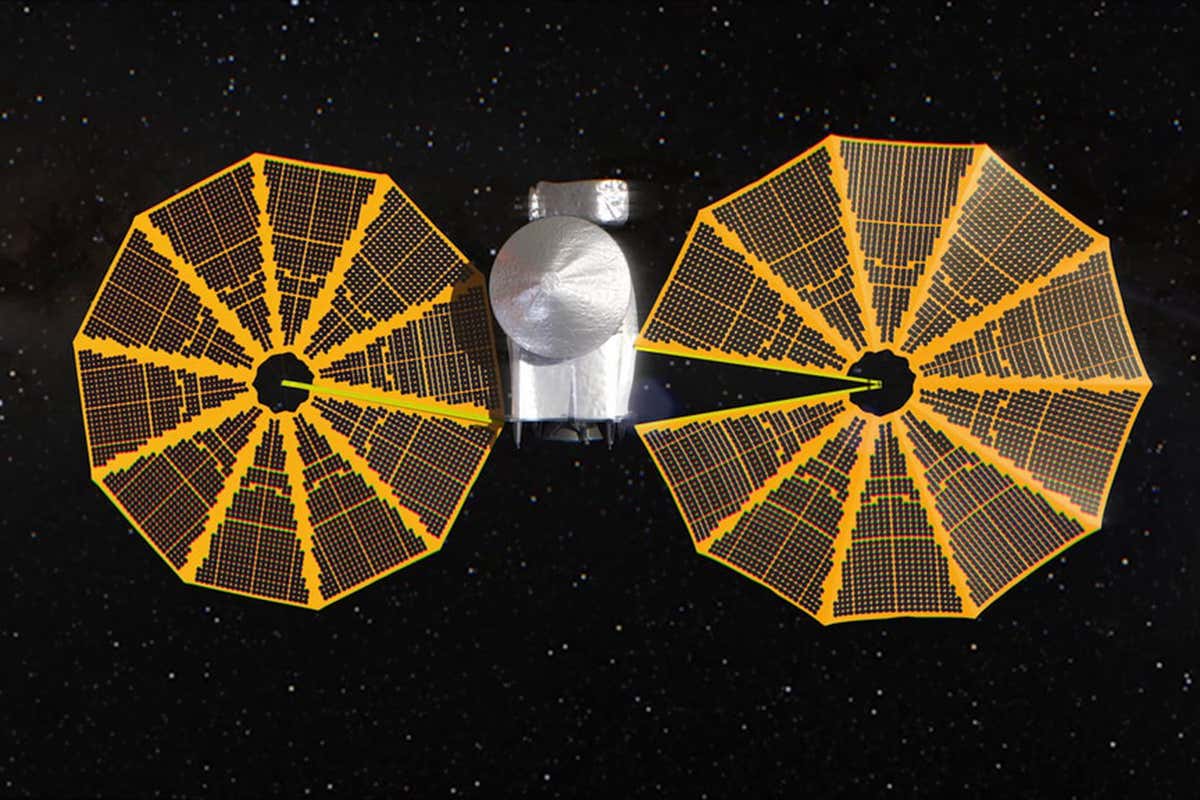 NASA's Lucy spacecraft is about to visit its first asteroid. On 1 November, it will pass within 430 kilometres of the small asteroid Dinkinesh, testing its instruments and taking a few scientific observations as it hurtles by.
Lucy launched in October 2021, and since then it has been flying at about 19.4 kilometres per second towards the outer solar system. Its main targets for exploration are the Trojan asteroids, which share Jupiter's orbit around the sun. One clump of Trojans moves just ahead of Jupiter, while the other follows just behind it.
Dinkinesh is not a Trojan – rather, it is in the main asteroid belt, between the orbits of Mars and Jupiter. That makes it the perfect rock to stop by on the way to the Trojans to make sure that all of Lucy's scientific instruments will be working properly for the other nine asteroids it will observe in the main part of its mission.
Dinkinesh is less than 1 kilometre wide, small enough that it is barely visible from Earth, so this flyby will reveal its surface for the first time. During the flight, the tracking system used to keep the asteroid within the cameras' field of vision will be tested – this system is particularly important because of asteroids' relatively small size and the spacecraft's extreme speed as it whips by.
"For the Trojans, we have a very good estimation of the orbit, but there is still an uncertainty of about 100 miles, and when you approach these targets you don't want to miss them," says Noemí Pinilla-Alonso at the University of Central Florida. "This rehearsal is going to tell the team how good the system is, and it will give them an opportunity to test everything and to improve it before the science starts."
If the tracking system works as expected the scientific instruments will be used to take a few basic measurements of Dinkinesh's surface. While the main goal of this flyby is testing, those instruments could still give researchers useful information. "The other asteroids of the same size that NASA has visited are near-Earth asteroids, so one thing that we want to see is whether the shape of this kind of object in the main belt is similar to the shape of objects that have been delivered to the inner solar solar system," says Pinilla-Alonso.
The next major event for Lucy after this flyby is another pass by Earth in December of 2024, followed by a visit to one more main belt asteroid in 2025 and then the two-year-long journey to Jupiter and its Trojans. The Trojans may be pristine remnants from the process of planet formation in the solar system, so researchers hope that studying them up close will give us insights into how and where the planets formed and how they moved around the solar system after their formation.